401(k)s are a retirement benefit for employees, but employers can also experience significant benefits by establishing a plan.
And for business owners debating whether or not to offer their employees a 401(k), it's essential to weigh the pros and cons. But understanding the tradeoffs isn't always straightforward. Because while many employers recognize the apparent costs and benefits that impact their bottom line, like tax credits, business deductions, and plan fees, some of the other impacts aren't as easy to measure.
These intangible benefits of a 401(k) include improved morale, culture and retention, the ability to attract better talent, and creating a feeling of shared ownership. And while they may not be as easy to measure, weighing their impact when making your decision is essential.
Consider the following benefits:
Attracting and Retaining Talent
Whether you offer them or not, retirement benefits are critically important to your employees. And as all good leaders know, if it's essential to your employees, it's crucial to the success of your business.
A recent Accenture study found that "62% of workers said a retirement plan was a critical factor in staying with a job, and over two-thirds (68%) said it was a critical factor in deciding whether to accept a job or not."
The study also found that employers have a significant opportunity to fill a need for their employees. According to Accenture's study, nearly 84% of employees said they want more help with pension and retirement planning from their employer. This is a critical opportunity for employers to increase employee wellness, satisfaction, and security, ultimately driving higher retention rates.
Tax Credits for Your Business
The passage of the SECURE Act in 2019 (Setting Every Community Up for Retirement Enhancement) offered small businesses two different tax credits for setting up a new 401(k) plan. These are valuable dollar-for-dollar credits for eligible small businesses.
The first is a credit for qualified startup costs. This enhancement of an existing credit allows small businesses to claim a tax credit for a portion of their startup costs. The startup credit is for 50% of your eligible startup costs and is limited to the greater of:
$500
The lesser of:

$250 multiplied by the number of non-Highly Compensated Employees eligible for plan participation, or
$5,000
Eligible employers can claim the startup tax credit for each of the plan's first three years for a total possible credit amount of $15,000.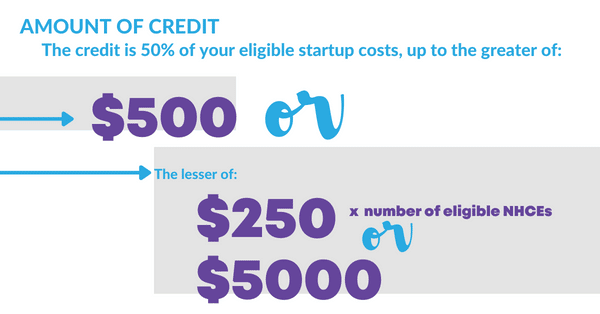 The second tax credit is available for retirement plans with an automatic enrollment feature. Studies show that automatic enrollment increases employee participation, leading to better employee retirement savings and outcomes. So, to encourage employers to add an auto-enrollment feature to their 401(k), the tax code offers an additional $500 tax credit for each of the first three years. This credit is available to new or existing 401(k)s that add this feature.
In addition, the upcoming SECURE Act 2.0 includes some additional tax credits and opportunities for employers to consider. It hasn't been passed yet, but it appears to have strong bi-partisan support after being approved by the House of Representatives with an overwhelming 414 to 5 vote. Details are currently being worked out in the Senate.
Although subject to change, the initial features of the bill include the following:
Doubling the startup costs credit to include 100% of eligible startup costs, with the cap remaining at $5,000 per year for three years ($15,000 total)
Expanding the startup credit to cover employers when they join a Multiple Employer Plan.
Adding a credit for a percentage of employer matching contributions capped at $1,000 per employee.
Maintaining the auto-enrollment credit of $500.
Tax Deductions, Both Business and Personal
Lastly, tax deductions aren't as valuable as dollar-for-dollar credits, but they still add value for employers.
Fortunately, all your 401(k) costs are tax-deductible as business expenses. These include:
Setup or startup fees (you can deduct the costs or claim the credit, but not both)
Document fees
Record-keeping fees
Employer matching contributions
This can be a huge benefit to employers, allowing them to lower the taxable net profit of their business.
In addition, employers who choose to participate in their retirement plan can create significant savings on their personal tax return.
For example, an employer age 50 or older can personally contribute $27,000 per year to their 401(k) account in 2022. And if they choose to contribute the full $27,000 to a Traditional 401(k) (not a Roth), then that $27,000 reduces their personal taxable income for the year. For a high-earning employer in the 32% tax bracket, that could mean a federal tax savings of $8,640 (32% x $27,000).
This can be a powerful way for employers to secure their retirement while lowering their personal tax liability.
Your Partner for Retirement Benefits
At 401GO, we provide small business 401(k) plans powered by an easy-to-use platform. Our streamlined approach allows you to get up and running in just minutes with simple and affordable pricing to fit your unique business.
Talk to us about how much a 401(k) plan could save you in taxes and recruitment costs.